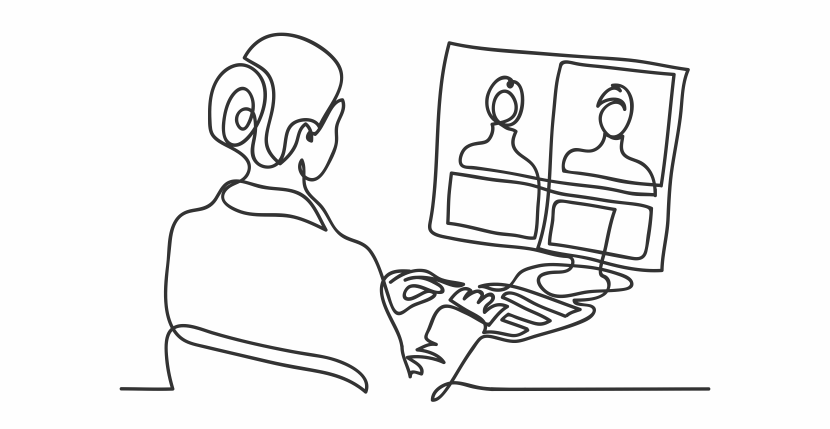 Online counselling
The benefits & best online approaches
COVID-19 update: The coronavirus has affected everyone around the world, both physically and mentally. With the rising demand that mental health charities are facing in this crisis, it's important to remember that we need to look after our mental health, now more than ever. For people who may be struggling with stress and depression, online counselling and therapy is still available for everyone wishing to achieve a positive mental state.
Online therapy is an excellent way of getting the professional help you need without the high costs often involved in visiting a counsellor or therapists in person. Online therapy can help you manage all sorts of mental health problems from long term stress and anxiety-related issues to anger management and self-confidence. It can also be a release for more short-term stressors if you've experienced a loss in the family or relationship issues.
What are the benefits of online counselling?
Value for money.

Many counsellors or therapists like to provide their services online, especially when it's beneficial for the client to receive treatment this way. The savings made by not having to cover business costs such as insurance and overheads can be passed directly on to the client. 

Flexibility.

Even counsellors with access to a dedicated therapy space prefer to devote some time to online therapy as it allows for greater flexibility with appointment times, which is beneficial for those who may not be able to attend sessions due to busy work and life schedules.

Comfort.

For many, the negative stigma associated with seeing a therapist can be enough to put them off treating the problem. Online therapy is much more accessible and eliminates any fear that you might have of being seen walking into therapists. It also means spending less time travelling to a physical location and can be conducted from the comfort of your own home. You can also choose to remain anonymous.
What types of online counselling is available?
We live in a time where it's never been easier to communicate with anybody we like, anywhere in the world at any time of day. Although this freedom is not without its dangers, it means gaining access to therapy has never been as easy, which is especially crucial in this time of crisis when our ability to travel is limited. Below are some methods of receiving therapy.
– Video counselling
Video counselling is as close to traditional face-to-face counselling as you can get. Video chat systems such as Zoom, Google Meet or Skype are widely available and free to use. Video is becoming increasingly popular with counsellors as it has all the benefits listed above. Video sessions can last anywhere from a few minutes to hours, depending on the amount of therapy required.
Sessions can work around office hours, slotted in before the school run or conducted during lunch breaks which makes it ideal for those with busy lifestyles. It's common practice to have an initial consultation where you can talk through what is affecting you and agree on a treatment plan with the counsellor. Although you may be receiving treatment in the comfort of your own home, it's still essential that you are in a comfortable environment and able to limit distractions for the sessions to have maximum effectiveness.
– Online messaging counselling
Depending on what mental issues you face, text-based counselling can be an effective approach. Although not ideal when trying to treat major mental health issues, just knowing that you have access to a qualified and experienced counsellor at your fingertips can give a tremendous amount of comfort. There are a vast range of messaging options available, from texting or email to services such as WhatsApp or Facebook Messenger. Writing things down gives you the ability to document your feelings as and when you experience them, like a therapy diary, and collate them all together until you're ready to express them to your counsellor.
It's essential, as with any therapy, to be in a comfortable place and pay full attention while in session. It's also best practice to agree a time when you're counsellor will be available to message you back – don't expect a reply at three in the morning if you haven't agreed on these terms.
– Telephone counselling
Receiving counselling or therapy over the phone is another convenient method, especially for those who don't have access to a computer or the internet. Telephone counselling works in the same way as video conferencing but with added anonymity. An initial call acts as an induction where you have the chance to speak about what issues are affecting your mental health, and a road-map is created to treat the underlying issues.
Other things to consider when receiving online therapy
Just like with face-to-face counselling, there are things to consider to ensure you're getting the right treatment from a qualified counsellor. It's essential to ask to see the counsellors privacy and confidentiality policy as well as there cancellation policy. An experienced counsellor will have no issues in providing these. It's also useful to get some background information on the person conducting the sessions as this will help to build trust immediately, relieve any doubts and increase your confidence in the approach.
Online Counselling Package
5 x 1-hour slots can be purchased for £200. Each session gives you or your employees access to an experienced therapist, qualified in counselling, hypnotherapy neuro-linguistic programming and psychotherapy.
Limited-time package: individual sessions usually cost £55 each.
If you're interested in receiving online counselling through Free Thinking Therapies for yourself or your employees, you can read more about our founder and full-time counsellor Mark Moore. Get in touch or book an appointment with us today: we'll be happy to talk you through how online counselling can benefit your mental well-being by making your tomorrow better than yesterday.